Before the semester started, I knew things would be pretty different living with Grandma and Grandpa in Vallejo compared to living with my friends in San Francisco. However, Tuesdays are kind of similar. Both Tuesdays have rituals involving location, food, friends, entertainment, and comfort. I decided to write this post in a list format in order to easily illustrate the similarities and differences.
1. Location
Fall 2013: my house, living room
If we had a welcome mat, this is what it would look like.
(image via http://amlegendhomes.com/)
My roommates and I always enjoyed entertaining and having our friends come over, so our house became the dedicated viewing location of most TV and movie nights. Having people come to us also meant we didn't have to get ready and go to them. Score!
Fall 2014: Cache Creek Casino Resort, fifth floor (same floor as the pool area), first room from elevator across from the ice machine
*sounds of slot machines in the distance*
(image via http://greatvalleyexcursion.wordpress.com/)
As members and frequent visitors of Cache Creek Casino Resort, Grandma and Grandpa tend to rack up the points and perks on the regular. This means they get a free night's stay at the hotel every week. Grandma always requests, and usually gets, their favorite room. The location is prime. We don't have to walk too far to get to everywhere you need to go: the elevators, the ice machine, and the pool and jacuzzi. The fitness center is also on that floor, but... I'm not sure if I'll be frequenting that area as often.
2. Food
Fall 2013: Tacos and homemade baked goods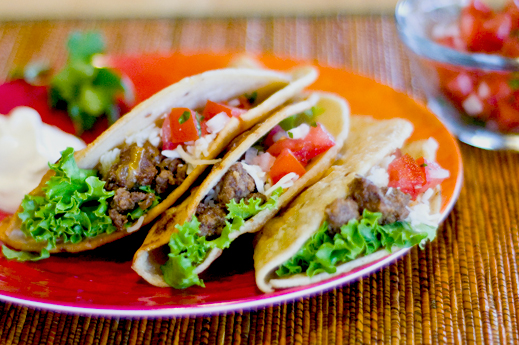 Ours never looked this good.
(image via http://chaosinthekitchen.com/)
Taco Tuesday! To celebrate, we usually made homemade tacos or went out and got Chipotle, at the very least. I mentioned in a previous post that my friend and past-roommate, Kiley, is an avid baker. She would always treat everyone Tuesday nights with either her world-famous cookies or her latest recipe find.
Fall 2014: Chinese food or sandwiches
That's the place. Mmm.
(image via http://www.examiner.com/)
When it comes to food, my Grandma knows what she wants. She also knows what she doesn't want. Grandma never wants food that is subpar. Only the yummiest for Grandma. This basically eliminates all but two food options at Cache Creek. They are the Chinese restaurant and cafe. They are pretty delicious, in my opinion. I wouldn't know if the other options are yummy, because I've never eaten from them. I do what Grandma says.
3. Reaction to Seeing Friends
Fall 2013: Excited
Me.
(image via http://sleepingpuppy.tumblr.com/)
My reaction to seeing friends: "I feel like I haven't seen you in forever! Tonight's going to be the best. I am so excited for the episodes. Especially after last week. I wonder what's going to happen with Jess and Nick and Mindy and Danny! Oh, and did you bring the champagne? Awesome. We're making cookies. I just bought a new carton of Lactaid. Woo! Cookies and milk and not pooping my pants!"
Fall 2014: Reluctant
Grandma.
(image via http://www.businessinsider.com/)
Grandma's reaction to seeing friends: "Oh, gawd. I already see someone I know."
4. Entertainment
Fall 2013: New Girl and The Mindy Project
New Girl.
(image via http://gabrielafresquez.com/)
The Mindy Project.
(image via http://www.reellifewithjane.com/)
Both shows are highly entertaining rom-com sitcoms that aired Tuesday nights. We were a group of college girls that love laughing and meet-cutes and hung out Tuesday nights. Self-explanatory.
Fall 2014: Gambling for Grandma and Grandpa; swimming pool, jacuzzi, and free wifi for me
*swimming and thinking about the internet*
(image via http://www.aquaticreations.biz/)
Grandma and Grandpa love to play their slot machines. Their favorite is "Tiki Torch," or "Tiki Tiki," as they have nicknamed it. I'm not much of a gambler myself, so I choose to spend my time at the pool and jacuzzi or in the room exploring the wonders of the internet. Grandma and Grandpa often join in on the jacuzzi time.
5. Comfort
Fall 2013: sweats and cuddling
Of course, Ryan.
(image via http://www.quickmeme.com/)
Comfort is everything. I have a tattoo that says, "The mind is everything," but I'm considering getting "The mind" changed to "Comfort." That is how strongly I believe in the importance of comfort. My friends and past-roommates know that the minute I get home, I run to my room, take off my clothes (bra, especially), and throw on some sweats. This was definitely a must for our Tuesday night viewing parties.
My second comfort-love after sweats is cuddling. Luckily, I have cuddly friends. Tuesday nights were a comfy cuddly affair.
Fall 2014: fluffy bathrobes and as many pillows as it takes to convert my bed into a cloud
Yup.
(image via http://www.quickmeme.com)
One of the best things about staying in a hotel is getting to wear the fluffy bathrobes when provided. Cache Creek is one of those magical places. You best believe I lounged around in the fluffy goodness for as long as possible before putting on real clothes was a necessity.
I need this.
(image via http://www.loubilou.com/)
I also need this.
(image via http://jelanieshop.com/)
I love pillows. I love pillows so much that I am retracting my previous statement that cuddling is my second comfort-love. It has been demoted to third. Pillows have taken its place. My ideal sleeping situation is to be surrounded by so many pillows my bed becomes a cloud. I am transported into a magical land of fluffy softness. I know clouds are actually made up of frozen water molecules, or whatever. I don't care. Laying in a bed of pillows is still what comes to mind when I dream of lounging up in the sky.
In conclusion:
It's always nice to have a few rituals here and there. It's pretty comforting to know that at least one thing will stay the same week to week (at least for a little while). I wonder what I'll be doing Tuesdays next semester... I mean, after I graduate. Silly me. There aren't semesters after graduation. It'll just be life. No classes. No professors to tell me what to do with my time. Just work. And bosses. In the real world. AAAHH!